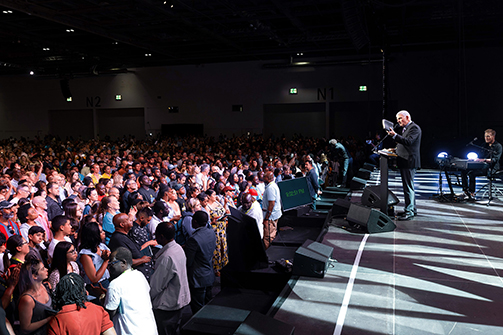 JOIN US IN 2023 TO BUILD ON THE GOSPEL IMPACT CREATED THROUGH THE 2022 GOD LOVES YOU TOUR.
Saturday, 26 August | ExcEl London | 18:00
FREE OF CHARGE | EVERYONE IS WELCOME
The God Loves You Tour is not just a weekend event. It's the culmination of months of prayer, planning, and training to help equip the local church, all leading up to the proclamation of the Gospel on 26 August at ExCeL London.
JOIN US IN 2024 AS THE GOD LOVES YOU TOUR MOVES NORTH TO SCOTLAND
Saturday, 22 June | Ovo Hydro, Glasgow
Franklin Graham and the God Loves You Tour will partner with churches in Scotland next summer to bring the hope of Jesus Christ to Glasgow.